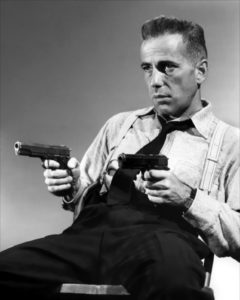 Humphrey Bogart was born on Christmas Day 1899.  He passed away from esophageal cancer on January 14, 1957.
Although he made his name starring in now classic films such as Casablanca (still my favorite), Key Largo, The Maltese Falcon, and The Big Sleep, he started out playing hoodlums in many of his early films.  It's the tough-guy characters he played, both good guys and villains, for which he is best remembered today.
In spite of his reputation as a star of gangster films and film noir, Bogart starred in a number of other roles.  He was married to Lauren Bacall.  They met on the set of To Have and Have Not.  He was 44, and she was 19.  It was her first and his fourth marriage, and would last until Bogey's death.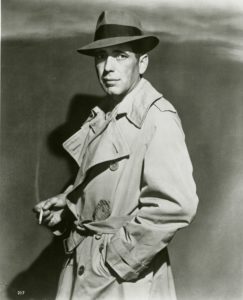 Take a moment from your holiday celebrations and raise a glass to his memory.  Bogey's films are worth watching, even as many acclaimed pictures made by other actors during his lifetime have faded into obscurity.
Here's a classic scene between Bogart and Bacall from To Have and Have Not: