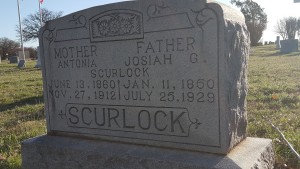 Josiah Gordon "Doc" Scurlock was born in January 11, 1850 in Tallapoosa County, Alabama, and died on July 25, 1929, in Eastland Texas, where he was buried.
Scurlock's claim to fame comes from his participation in the Lincoln County War.  He was a founding member of the Regulators and their third and last leader.  He had medical training, which earned him the nickname "Doc".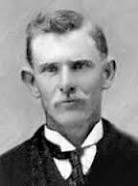 Being a Regulator, Scurlock fought for the McSween-Tunstall faction.  He had a active career before getting involved in the Lincoln County War, but that's the subject of a different (future) post.
After Dick Brewer was killed in the shootout at Blazer's Mill, Scurlock assumed leadership of the group.  It wasn't long before he decided to extend his life expectancy and leave the area.  He went to Texas, where he died in Eastland, a respected member of the community.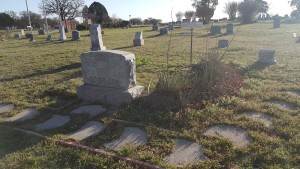 Scurlock's grave is pretty easy to find.  Straight ahead as you enter the Eastland cemetery there's a group of flags on the right, with monuments to each war going back to the Mexican War.  (There are two Mexican War veterans buried in the cemetery.)  On the corner by the flags you'll find the directory for the cemetery.  The Scurlock family plot is at about a 45-degree angle to the corner.  It's pretty easy to find.  The headstone is large and the name "Scurlock" is carved in large letters on both sides of the stone.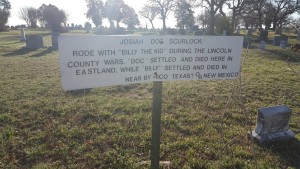 There's a sign mentioning Scurlock's association with Billy the Kid.  You can see it in the above photo if you look carefully.  It's the white rectangle just below the trees to right of center. I'm sure there are some who will take great exception to what's on the sign.  (My apologies for the poor photo.  I visited the cemetery on my way to Austin as recounted in the previous post.  It was my first stop, and the Sun was still low on the horizon.)  Scurlock didn't talk much about his past.  He felt there were still people who might try to do him in.
If you're in the area, the cemetery is worth a visit.  In addition to Scurlock, there are several other people who played a role in the state's history.  I'll mention them when I do my post on the cemeteries I visited on my trip.