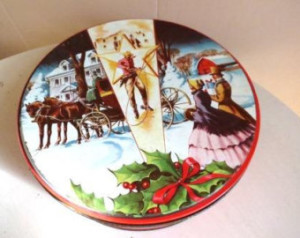 Merry Christmas!
A familiar sight growing up in Texas was the tin you see on the left.  It's a fruitcake tin from the Collin Street Bakery in Corsicana.  That's south of Dallas, in case you didn't know.  The bakery famous for their fruitcakes, among other things.    Much of their business is through mail order.
I remember seeing these tins when I was a kid.  While time has corroded my memory (and some would say my mind), I think we would take one to my grandparents in Mississippi when we would visit for the holidays.  I have a vague recollection of seeing one one the table and being struck that it was there since the Alamo is prominently displayed at the top of the picture.
The Collin Street Bakery was founded in 1896 by Gus Weidmann and Tom McElwee.  It didn't take long for their products to gain recognition.  Early customers included Will Rogers, "Gentleman Jim" Corbett, and John Ringling, the circus owner.  On one occasion, so the story goes, the entire circus ordered fruitcakes to send to friends around the globe.  The Ringling Brothers Barnum and Bailey Circus still gets its fruitcakes from the Collin Street Bakery.
Different Christmas posts are up at Adventures Fantastic, Futures Past and Present, and Gumshoes, Gats, and Gams.