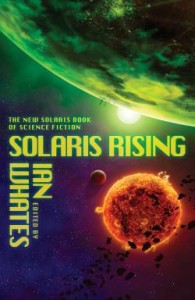 Solaris Rising
Ian Whates, ed.
Solaris Books
mass market paperback $7.99
ebook $6.99 Kindle Nook
A number of years ago, Solaris Books started an original anthology series entitled The Solaris Book of New Science Fiction. The series was edited by George Mann and ran to three volumes. I loved all three. They each contained solid science fiction in a number of subgenres. One of the best things about them was that, since Solaris is a British company, they contained stories by a number of writers who aren't as well known on this side of the pond. This allowed me to discover some new favorites.
I'm not sure why the original series was discontinued, but I was sad to see it go. Fortunately, it's back. And it's been back a while. Solaris Rising was published two years ago. I usually don't read anthologies in a short period of time, tending to dip into them between novels or when I have a spare minute. (That's something I'm trying to change.) Solaris has become the Go-To publisher for top-notch anthologies, themed or unthemed. There are several sitting on the shelf I'm going to try to read over the next couple of months, including Solaris Rising 2, Edge of Infinity, and Fearsome Journeys (this one's fantasy). Continue reading →