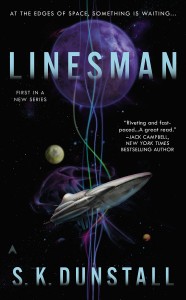 Linesman
S. K. Dunstall
Ace Science Fiction
mmpb $7.99 US, $10.49 CAN
ebook $5.99
Before I get started, I'd like to thank Ace Books for the review copy.  Ace is one of those lines you should be paying attention to.
S. K. Dunstall is the collaborative pen name of sisters Sherylyn and Karen Dunstall.  Linesman is their first published novel.  It won't be their last (the sequel hits shelves in February).
The story takes place at least 500 years in the future if I picked up on all the internal clues correctly.  Interstellar travel is accomplished by means of lines.  They're some type of sentient energy, although the sentient part isn't a widely accepted idea when the book opens.  Without the lines, it's impossible to travel faster than light.  (Where they come from is a mystery that isn't solved in this book.)
In order to travel and make use of the lines, a ship has to have a linesman on it.  Lines are numbered one through ten, with nine and ten being the two lines that involve entering  and moving through the void.  Not all linesmen can interact with all the lines, so "tens" are at the top of the pecking order.  That pecking order is about to be upset by an alien ship discovered in deep space. Continue reading →