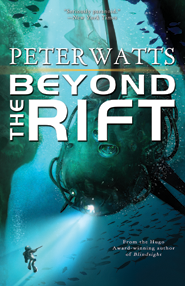 Beyond the Rift
Peter Watts
Tachyon Publications
trade paperback $14.95
ebook $9.95
I really enjoy well done science fiction, full of unusual ideas and fascinating characters, especially at short lengths. Unlike my taste in noir and fantasy, I generally prefer my science fiction to end on a fairly upbeat note. That's not to say I don't enjoy some of the darker stuff.
Case in point, Peter Watts' latest collection from Tachyon Publications. This collection, consisting of a baker's dozen short stories and an essay, is one of the best (and in many ways darkest) I've read in quite a while.
Some of the standouts for me were "The Things". This is a retelling of the classic John W. Campbell story that was filmed more than once as The Thing. Watts tackles the tale from the point of view of the alien.
"The Island" is about a woman on a ship whose mission is to leave what are essentially stargates who is awaken to discover a son she never knew she had and a life form that completely surrounds a star. She and the AI guiding the ship, already enemies, gain new reason to hate each other as completing their mission in the system will result in the death of the organism.
"The Eyes of God" concerns a soldier of God whose zeal may hide a darker motivation. "Mayfly", co-written with Derryl Murphy, tells what happens when a family uses an AI to try and recapture a daughter taken from them by death.
"A Niche" is a disturbing tale of two people in an underwater station, where one of them adpats to the environment and one doesn't. The scary thing about this one is I can see it happening.
Watts concludes the volume with an essay on how his world view colors his fiction. He argues he's really an optimist. He also spends a good deal of time telling his side of his encounter with Homeland Security a few years ago. I hadn't heard his side of the events, so I found this informative.
My worldview doesn't overlap much with that of Mr. Watts. That doesn't mean I don't enjoy his work. I do. He's able to get into the heads of his characters in a way few other authors can.  His protagonists are sympathetic even when they're extremely flawed and not always pleasant people.
I'd only read "The Things" before I read Beyond the Rift. I'll be reading more of his work, although I probably won't read quite so much in such a short time period.
I read the epub version of the ebook. The formatting was professional, the text had been copy edited, and the interactive ToC worked perfectly, as did the footnotes in the essay.
I'd like to thank Tachyon Publications for the review copy. Tachycon has been producing quality books for quite some time now. They don't produce a large number of titles in any given year, but I always take note of the ones they do. Tachyon Publications is one of the premiere small presses in the US at the moment.