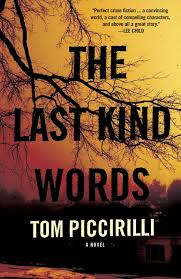 The Last Kind Words
Tom Piccirilli
Bantam
trade paper $15.00
ebook $4.99 Kindle Nook
My reviewing schedule is in complete disarray, and it's Tom Piccirilli's fault. You see, I'd intended to start this novel sometime next month. But then I found myself with a brief bit of unexpected time on my hands. I had my phone with me, which of course has multiple ereader apps on it. I thought I'd check out the first few paragraphs.
Bad idea. Or rather, good idea. I was hooked. That science fiction novel, the one that came out last week that I'd intended to have the review up by release day? I've only read two chapters. The ARC of the forthcoming horror anthology with the really impressive lineup? Haven't gotten to it. The collection for the next installment of Six Weeks of Scares I'm doing over at Amazing Stories? Still need to finish it. The post for Dispatches From the Lone Star Front about Teddy Roosevelt recruiting the Rough Riders at the Menger Bar in San Antonio? Haven't started on it yet.
Yes, The Last Kind Words is that good. It's a high water mark in modern crime writing. The story opens with Terry (short for Terrier) Rand visiting his older brother Collie on death row. About five years ago, Collie went on a killing spree one night, then turned himself in. No one has ever learned why, and Collie, thoroughly unrepentant, isn't giving any explanations. Continue reading →