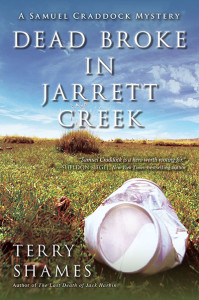 Dead Broke in Jarett Creek
Terry Shames
Seventh Street Books
Trade Paper, 250 pages, $15.95
ebook $11.99 Kindle Nook
Hard times have come to the small town of Jarrett Creek.  The city coffers are empty, and there's a dead body behind the American Legion building.
The body belongs the son of a prominent banker who works at his father's bank.  He was last seen alive in the parking lot after a meeting to discuss what to do about the town being broke.
Now there isn't any money to pay the police.  The now former chief hasn't finished drying out, so he's in no shape to continue with the job, even if there were money to pay him.  The acting chief quits when he learns he won't be getting paid.
Thus it falls to former police chief Samuel Craddock to fill in.  He agrees to work for a dollar a year.  His first order of business: find who killed Gary Dellmore.  Was it a jealous wife?  A jealous girlfriend?  A business partner?  Someone associated with a failed water park development, the same development that caused the city to go broke?  Or someone else? Continue reading →