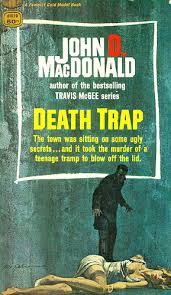 Death Trap
John D. MacDonald
Fawcett Gold Medal, 1957
mmpb, 191 pgs.,
If you recall, I picked up some old John D. MacDonald paperbacks last summer, which I wrote about here, with one reviewed here.
Well, while I was laid up with the flu last week, I got the hankering to read another one rather than the fantasy novel I'm susposed to be reading for review.  (I blame it on the pharmaceuticals.)
This is one of MacDonald's earliest novels and went through a number of reprintings, as evidenced by not only several different covers, but several different prices on the same cover illustration.
The setup in this one is pretty straight forward.  MacReedy works for an international construction company.  A few years ago he was in charge of widening a highway from two to four lanes outside a small college town.  While there he meets a young woman named Vicky Landy, whose whiz-kid brother is a freshman at the college.  Vicky and Alister are orphans, and Alister is one of those brilliant kids who hasn't quite caught the knack of fitting in socially.
MacReedy seduces Vicky, a seduction that culminates just as he is finishing the job.  Vicky had hoped to marry him, and he leaves her with a broken heart.  MacReedy spends the next three years in Spain on a major project, but he can't get Vicky out of his mind.
Upon his return, he is planning on taking a couple of months off to do some fishing when he sees a small story on the back page of the paper.  Alister is set to be executed for the rape and murder of a 16 year old girl. Continue reading →