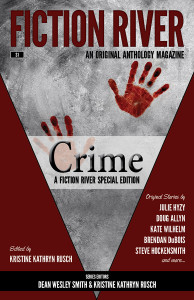 Fiction River:  Crime
Kristine Kathryn Rusch, ed.
Dean Wesley Smith & Kristine Kathryn Rusch, series editors
WMG Publishing
trade paper $15.99
electronic $6.99
Fiction River is one of those wonderful ideas that could only have been brought to fruition in the last few years, as the epublishing revolution has taken hold. Veteran (and award-winning) editors Dean Wesley Smith and Kristine Kathryn Rusch returned to editing last year with a crowdfunded anthology series called Fiction River. I found the concept very exciting and interviewed Ms.Rusch at Amazing Stories.
Each volume of Fiction River has a different editor and theme. Most of the ones so far have been some blend of science fiction or fantasy, although other genres usually end up in the mix. Published on a bimonthly schedule, they've just completed their first year. The issue under review here is a special issue commemorating that anniversary.
Crime may well be the strongest issue in the series to date. This issue has some top notch tales, mostly noir, from some of the best writers working in the field today along with some newcomers who will likely be the best writers in the field tomorrow. Continue reading →