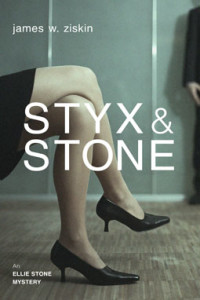 Styx and Stone
James W. Ziskin
Seventh Street Books
trade paper 285 pp
US $15.95 Can $17.00
Amazon Barnes and Noble
ebook $11.99 Kindle  Nook
Styx and Stone is a period mystery set in the first couple of weeks of 1960. The cover of this novel says "An Ellie Stone Mystery". That's an indication that this is the first volume of a series. This is a good thing.
Ellie Stone isn't a private investigator. Rather she's a journalist, but of the hardboiled variety. She drinks and gets laid as much as her male counterparts in the genre. Where she differs from them is that she doesn't get into shoot-outs, engage in fisticuffs, or end up being knocked unconscious by a blow to the head.
Ellie and her estranged father are the remaining members of the Stone family. Her mother died of illness a few years back, but not before her brother was killed in a motorcycle accident. Her father is a Dante scholar at Columbia, one of the foremost in the world. Ellie is working as a reporter at a small town newspaper up north.
Ellie gets a call telling her that her father was attacked in his study at home. He's in a coma, and the prognosis isn't good. So Ellie returns home to keep vigil beside his bed. What she discovers is the manuscript of his latest book is missing. And one of his colleagues was found dead in his bathtub the day after her father was attacked, having apparently knocked his radio into the tub with him.  Being a good reporter, Ellie begins to ask questions about both the attack on her father and the death of his colleague. Continue reading →