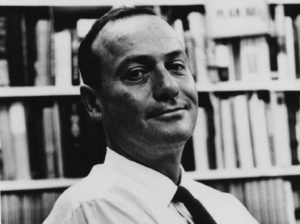 Kenneth Millar, who wrote under the pen name Ross MacDonald, was born today (December 13) in 1915.  He passed away in 1983.
MacDonald is best remembered as the creator of the Los Angeles based private investigator Lew Archer, although he also wrote stand-alone novels as well.  His early work was somewhat derivative of Raymond Chandler, but he soon established his own take on the lone investigator.
MacDonald has been on my radar a long time.  I read the Lew Archer novel The Galton Case when I was in graduate school.  I liked it enough to pick up copies of his books when I came across them in second hand shops.  Over the last few months, I've been dipping into The Archer Files, the collected Lew Archer short fiction.
I'm hoping to read more PI fiction next year, and MacDonald will definitely be in the rotation.