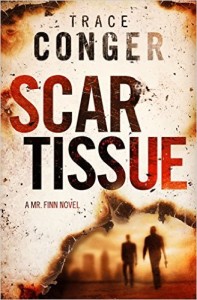 Scar Tissue
Trace Conger
paper $12.95 ebook $4.99
A few months ago I reviewed the first volume in a new PI series, The Shadow Broker by Trace Conger. At the time it was a finalist for the Shamus Award for best independently published novel. Since then, it has won the award. So congratulations to Mr. Conger for the win. It was well deserved. I'd also like to say thank you to him for the review copy of Scar Tissue.
The story picks up about three months after the end of The Shadow Broker.  Finn has moved from his house boat into an apartment in Cincinatti that he shares with his father.  He still spends weekends with his daughter.  He also spends a considerable amount of time with his new girlfriend, who just happens to be the nurse at his daughter's school.  His ex-wife is still living with the doctor she left him for, but that's about to change.  It seems the doctor has a little secret.
That secret is that he's been stealing drug for one of the largest herion dealers in the area.  He didn't intend to be in this position, he just sort of found himself in it.  Now he wants out.  The dealer has other ideas, and his muscle pays a visit to the doctor's house one evening.  They beat up Finn's ex-wife, Brooke, and threaten his daughter.  As you might guess, this does not go over well with Finn.
Finn tries to put a stop to things, but in order to do so, he has to agree to find a man who has diasppeared with over $5M of the dealer's money, and to find him with almost no information on the man.  Nobody ever said life would be easy
Things are complicated by the appearance of Finn's older brother, who he hasn't seen or heard from in 5 years.  Seems Finn's dad isn't the only one in the family who is other than he appears. Truth be told, Finn seems to be the lightweight in the family where shady pasts are concerned.
If you paid attention in The Shadow Broker, you would naturally ask some questions.  Why was Finn's father living in a nursing home when he is perfectly healthy?  (We find out)  Where did his father get all that money and why did he hide it at the bottom of a lake?  (We find out.)  What secrets does Finn's father have?  (We find out some of his secrets.  There's a secondary storyline dealing with some of this.)  Does Finn listen to radio station WKRP?  (We don't find out.)
I thought the cliffhanger at the end of The Shadow Broker was resolved a little too easily, but Conger did make that resolution fit the story he was telling.  That's a minor point, though.  The family dynamics in this series are shaping up to be some of the most complex I've seen in a while.  Things could easily slide off into soap opera or melodrama territory, but they don't.  Trace Conger keeps the tension racheted up.  These are some of the most fully realized characters I've encountered in a long time, and this is one of the best detective series I've ever read.  The Mr. Finn series breathes new life into the PI genre.  Too many hardboiled/noir novels tend to lapse into self-parody, but not this one.  There's humanity in this one to the core.
The tension just kept buiding all the way through the book.  I thought the way Finn and his brother brought down the bad guys at the end was brilliant.  Insanely reckless, but brilliant.  I'm not sure their scheme would have worked in reality, but I loved it.  And what secrets is his brother hiding?
I strongly recommend this series to fans of the private investigator novel.  You won't be disappointed.
For a limited time, both The Shadow Broker and Scar Tissue are Featured Books at Adventures Fantastic Books.