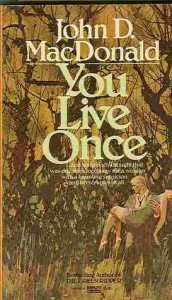 You Live Once
John D. MacDonald
Fawcett
This was originally published as a Fawcett Gold Medal book, but the edition I have is a later one without that designation on the cover. But it's still a great book. It's one of the bundle I wrote about in my last post.
Clint Sewell is a rising middle manager in a midwest firm. He's fairly new to town. Lately he's been seen in the company of a local heiress, one Mary Olen. Even though Clint would like things to happen with her, their relationship is something of a ruse. Clint's boss, Dodd Raymond, who happens to be married, is a hometown boy.  He and Mary knew each other years ago.  Now that he's back in town, they're having an affair.  He's got Clint acting as Mary's date so he can spend time with her.
The book opens with Clint being awakened from a deep sleep by a couple of police officers.  Mary didn't come home last night, and Clint was the last person seen with her.  He tells them the truth.  Mary dropped him off after a double date with the Raymonds.  She was supposed to pick him up and take him up to a party at her family's lake house.
The police believe him and leave.  Clint goes into his bedroom to get dressed and finds Mary in his closet.  She's been strangled by one of Clint's belts.  In a panic, Clint disposes of her body.  He soon realizes that this was a mistake.  But it's too late to turn back now.  Clint can only hope he can find the real killer before suspicion is focused on him. Continue reading →