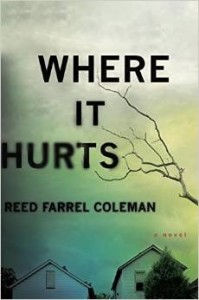 Where It Hurts
Reed Farrel Coleman
Putnam
harcover $27.00
ebook $13.99
I've been a fan of Reed Farrel Coleman for years, ever since I read Walking the Perfect Square.  So when I saw he had a new series, I didn't hesitate to pony up the cost of a hardcover.
It was a good investment, I'm looking forward to further installments in this series.
Gus Murphy is a former cop who works nights driving the courtesy shuttle for a run down hotel on Long Island.  Gus didn't leave the force due to scandal. His son died, and the grief tore his marriage and his life apart.
One night near Christmas, Gus returns from a late-night run to the train station to find Tommy Delcamino waiting for him in the hotel coffee shop.  Tommy is a two bit hood that Gus arrested more than once.  He's living in a trailer in the yard of a paving company.  Tommy wants to hire Gus to look into the murder of his son TJ.  The cops don't seem to care that the young man's body was dumped in a vacant lot.  When Gus asks why Tommy has come to him, Tommy says Gus always treated him like a human being.
Gus isn't buying it.  He thinks Tommy is trying to play on his sympathy because Gus has lost his own son.  Gus throws him out of the hotel.  Gus later feels guilty for how he treated Tommy, so goes to see Tommy one night and apologize.  Gus still has no intention of taking the case.  He nearly loses his life when he gets to the paving company yard and someone takes some shots at him.  Tommy wasn't so lucky.  When Gus finds him, he's got a nice hole in his forehead.
Then Gus learns from a friend of Tommy's that Tommy hadn't known a thing about Gus's son dying.  Tommy Delcamino was on the level when said that he'd come to Gus because had always treated him as a human being and not a piece of scum.  Gus reluctantly begins to look into the matter seriously.  What he finds leads to a conspiracy at the highest levels.
Gus has been sleepwalking through life the past few years, but now he's starting to wake up.  If only he can survive long enough to wrap up the case.
Reed Farrel Coleman is a top notch practitioner of the detective novel.  He's continuing Robert B. Parker's Jesse Stone series, if that tells you anything.  Check him out.