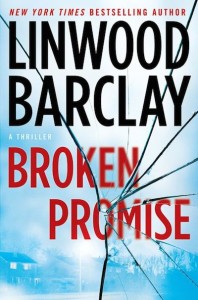 Broken Promise
Linwood Barclay
Penguin
mass market paper $9.99
ebook $9.99
I'd seen Broken Promise in Wal-Mart and considered picking it up.  But at the time, I wasn't familiar with Mr. Barclay's work, and I had a ton of stuff to read, and…you get the picture.
Then last week Richard Chizmar, publisher of Cemetery Dance,  tweeted that he couldn't put the book down.  So I went and picked up a copy over lunch.  Then I was a bit under the weather over the weekend.  So I read it.
I get what Chizmar meant about not putting it down.  Broken Promise has a lot going for it.  I'll be reading more of Mr. Barclay's work.
After his wife died, David Harwood had left the town of Promise Falls and taken his son with him to Boston.  But he spent all his evenings at work rather than with his son, so now he's back.  His first day on the job, the newspaper where he works closes.
So he's got some time on his hands and agrees to take some of his mother's soup over to his cousin Marla.  He finds a bloodstain on the door and Marla with a baby boy.  She says an angel brought the child.  Marla had lost her own baby about 10 months prior, had tried to steal a baby from the hospital, and isn't the most reliable of witnesses.  It doesn't help that she has a mental condition that makes it hard for her to remember and recognize faces.  (This is a real condition, not something Barclay made up.)   Something that works against her when the child's mother is found brutally murdered.
Detective Barry Duckworth already has his hands full without this case.  There's a serial rapist stalking women on the campus of the local college and a head of security who's taking a wild west approach to catching him, someone is mutilating animals and hanging them on fences, the disgraced former mayor wants to run for reelection and is trying to talk Barry into being a spy for him, and then there's the mannequins someone painted threatening messages on and put on the Ferris wheel at the abandoned amusement park.
Promise Falls has a lot going on for a small town.  And while some of the storylines are resolved, there's plenty left hanging at the end to make me want to read the rest of this trilogy.  Particularly what the coroner finds.  But first there are some prequel novels I need to read, like the one about David losing his wife.
If you like good, twisty thrillers, you might want to give this one a try.