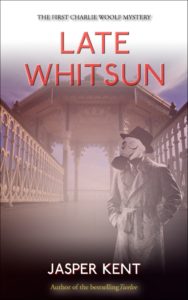 Late Whitsun
Jasper Kent
paperback $9.99
ebook $2.99
I really liked the first three volumes of Jasper Kent's The Danilov Quintet, which I consider to be a  thinking man's vampire hunter. The last two volumes haven't been published in the US, so I've not read them yet.  Emphasis on "yet".  You can read my reviews here, here, and here.
With Late Whitsun, Kent turns his attention to the historical mystery.  Set in Brighton in 1938, the novel concerns Charlie Woolf.  He's a sometimes private investigator who earns a meager living by making sketches for the tourists.
When he's approached by his former partner, Alan O'Connor, and asked to act as a courier, it's a chance to earn some easy money.  All he has to do is take an envelope to London and give it to a man by a certain bench in a certain park at a certain time.
Of course it's not that easy.  The envelope contains incriminating photos.  The man he meets is wearing a gas mask.  And when Charlie returns home, there's a surprise waiting for him in his apartment. Continue reading →