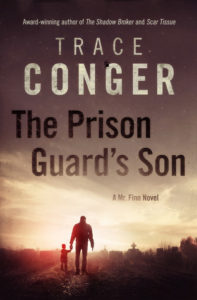 The Prison Guard's Son
Trace Conger
Paperback $12.95
Ebook $4.99
I'd like to thank Trace Conger for sending me the review copy of The Prison Guard's Son.  I've been hooked on the Mr. Finn novels since I read the first one.  That was The Shadow Broker, which won a Shamus Award.  (Read my review here.)
While the first two books dealt with aspects of unlicensed PI Finn Harding's family, this one takes him a bit farther afield.  Set approximately one year after the events in Scar Tissue (review here), Finn is hired by a retired prison guard whose eight year old son was murdered two twelve year olds after they took him  from a mall.  Although tried as adults, the killers were sent to a juvenile facility and released when they turned 18.  For some reason they were put in the federal witness protection program.
Now the grieving father wants Finn to find them.  Not because he intends to offer forgiveness, either.  Just the opposite.  He wants to kill them.
Although he has his reservations, Finn agrees to take the case.  He's a father, after all, and he wants to help a grieving father.
Finn doesn't know what he's getting himself into.  While there really weren't too many twists and surprises in The Prison Guard's Son, it's something of a nailbiter.  Finn goes about finding the two men.  Once he does, he has to make a decision about what to do with the information.  Conger does a great job in showing just how difficult it is to disappear.
This was an intense book.  The plot has a lot of resemblance to the James Bulger case back in England in 1993.  I was also reminded somewhat of the Leopold and Loeb case from the 1920s.  If you're a parent, there will probably be passages that get under your skin.  A child abduction is every parent's fear.
I could have finished the book two nights ago, while my son was enjoying himself at the local trampoline park.  I chose not to because I wanted to be able get some sleep that night, and I was afraid I would be too wound up.
In many ways The Prison Guard's Son is Trace Conger's best novel so far.  He's got a firm understanding of not just Finn's character, but of the supporting cast, both recurring and those who only show up for one book.  He knows how to ratchet up the tension.  This will serve him well, as he told me in an email that he's got a horror novella and a stand-alone suspense novel in the works.  I'm looking forward to both of those, as well as more about Finn Harding.
There seems to be a dearth of the classic private investigator these days.  At least at the one remaining retail bookstore where I lived.  (That would be B&N; Hastings has closed.)  There is a whole section of cozies in the mystery section as well as plenty of British and Scandinavian  police procedurals, but there seems to be little in the way of new PI novels.  Or maybe I just don't know which titles to be looking for.  The Mr. Finn novels have been a breath of fresh air.  Trace Conger is breathing new life into the genre, so check it out.