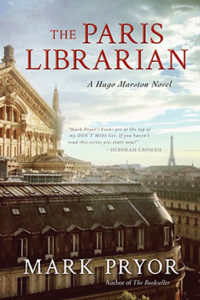 The Paris Librarian
Mark Pryor
Seventh Street Books
Trade Paper $15.95
Ebook $9.99
I'd like to thank Seventh Street Books for sending me a copy of The Paris Librarian. It's been out for about a month now. I finished the book about the time it was released, and things have just slowed down enough to write the review. The reviews you've seen in the past month were for things I'd finished before this one. Hopefully things will settle down for a bit, and I can be more productive.
This is the sixth installment in the Hugo Marston series.  I've not read any of the previous books.  Seventh Street has sent me review copies, but I'd not been able to work any of them in until now.  I'm going to go back and read some of them.
For the most part, the story was a stand-alone, but there were enough references to events in Hugo's recent past that from time to time I wished I had read them so I could follow the details of the conversation a bit better.
Hugo Marsten is a former FBI agent who now works as an investigator at the US Embassy in Paris.  There's an American library there, and Hugo is a friend of one of the librarians.  When the man is found dead in a locked room, the initial conclusion is that he died of natural causes.  The librarian was an American citizen.  As the librarian's friend, and as a member of the embassy staff, Hugo helps with what he at first believes is a routine matter.
But he finds a few details puzzling.  As he digs deeper, more and more things don't add up.  Then another person nearly dies, again from what appears to be a natural situation.  Soon Hugo is neck deep in more than he realizes, including a crime that is decades old.
The Paris Librarian isn't the type of crime novel I typically read, but the mystery was well put together.  Not noir enough for my taste.  But it's still a solid locked room mystery that turns out to be more than just a puzzle story.  Hugo isn't as colorful as some detectives, but he's more grounded that your typical gumshoe.  That makes for a likable protagonist and an enjoyable mystery.   So even though there was less action than there usually is in the books I feature here, this is still a series I will return to in the future.
The only thing that threw me out of the story was my familiarity with Paris. Or rather my lack of familiarity with the city.  I've never been to France, so I wasn't familiar with the streets or many of the locations Pryor mentioned.  I know he tries to keep the geography as consistent as he can with the real city.  The references weren't heavy-handed.  He wasn't trying to flaunt his knowledge or show off.  I felt the level of geographic detail was about right, especially for people who were familiar with the city.  The problem was with me, namely that I didn't want to stop reading to look anything up.
If you like a good mystery, especially of the locked-room variety, then you'll want to check out this series if you haven't already.