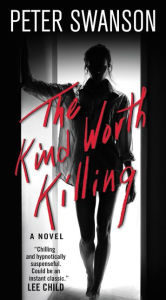 The Kind Worth Killing
Peter Swanson
William Morrow
paperback $9.99
ebook $14.99
audio
I was in the mood for a thriller and this one caught my eye. I think it was the blurb about four unreliable narrators that did the trick, although the one about three plots twists didn't hurt.  (No, it wasn't the nubile young woman silhouetted in the skimpy negligee. But that didn't hurt.)
One of the blurbs compares the book to the work of Alfred Hitchcock, and I think that's a fair comparison.  Other than the twist on the first page of the second part, which would be darn hard to pull off in a visual medium, this novel has all the elements of a Hitchcock thriller.
Self-made millionaire Ted Severson meets Lily Kintner in an airport bar in London.  They end up playing a game of secrets to pass the time.  Ted's big secret: he and his hot young wife are building a house on the Maine coast with his wife onsite to monitor things, and on a trip up there to check on the progress, he observes his wife and their contractor en flagrante.  That was a little over a week ago, and Ted's still livid.  He tells Lily his secret is he'd like to kill his wife.
She agrees his wife deserves to die, and furthermore, she agrees to help him do it when they return to Boston.  Just leave everything to her; she'll come up with the perfect plan.
What could go wrong?
A lot, actually.  You see, Lily never shared any of her secrets with Ted.  She just promised to once everything was over.  And Lily has secrets.  Poor Ted, he should have asked.
The blurbs on the cover didn't lead me wrong.  There are four narrators over the course of the novel, none of them completely stable, and some might be downright insane, criminally speaking.  Swanson gives us some nice tours through the minds of some folks who are really adept at rationalizing their actions.
The first and final twists really didn't surprise me; I should have expected them if I had been thinking more.  The second, which comes pages after the first, I never saw coming.  It totally changed the story.  Looking back, I was impressed with how Swanson set that one up without my ever realizing what he was doing.
I zipped through this novel in less than 48 hours, and that includes sleeping, seeing The Free State of Jones with my wife and X-Men with my son, and attending church Sunday morning.  Once things got rolling, I had a hard time putting the book down.
From what I understand, there's a film adaptation coming.  I'll be seeing it for sure.  If you like a good, twisty thriller, check this one out.  You'll be glad you did.