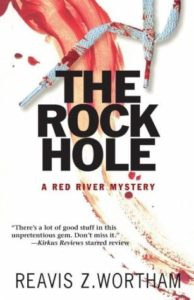 The Rock Hole
Poisoned Pen Press
Reavis Z. Wortham
paperback $14.95
ebook $0.99
audio $3.49
The Rock Hole is one of those books in which Literature goes slumming and dresses up in genre drag.  Often the results, while they may be beloved by the critics, are only embarrassing.  But then an author comes along and shows the rest of the world how it's done.  More on this in a bit.
Young Top Parker comes to live with his grandparents in rural Lamar County, Texas, in 1964.  Top's grandfather Ned is the constable and farmer.  When he gets there, someone is mutilating animals.  Ned fears it's only a rehearsal for killing a person, and he's got reason to believe that person will be a child.  What he doesn't realize is that the killer has Top in his sights.
That might sound more like a short story or novella rather than a full length novel, but there are other things happening.  Moonshiners.  Racial violence.  Past sins coming to light.  This book sucked me in.
In part because it took me back to a world I knew growing up, even though I was only on the edges.  My grandparents had a small farm in Mississippi that I would visit growing up.  Lamar County was part of the Old South.  I suspect in some ways it still is.
You see, I lived in Paris, Texas, for two and half years, from the summer before I started 8th grade until halfway through my sophomore year of high school.  They were, at times, some of the happiest years of my life.  Paris is the county seat of Lamar County.  And while it wasn't the 1960s, things don't change quickly in that part of the world.  It wasn't so far removed that I couldn't recognize where and when I grew up in the book.  Wortham creates a significant sense of place.  (Sixteen and a half years later, I took a faculty job down the highway in Commerce for 10 1/2 years and made trips back to Paris from time to time.)
Wortham never refers to Paris by that name, or many other real locations, although he does mention Hugo, Oklahoma, and the Carson and Barnes Circus, which are real.  What he doesn't try to fictionalize is the people.  Oh, sure, the characters are fictional, but the types of people they are, those are real.  They're the people I knew growing up.
Like I said, this book in some ways took me back to a time and place that I can only return to in my mind.
For those of you who are tired of my walk down memory lane, the mystery is well structured.  I didn't know who the killer was until about the time Ned figured it out.  And, yes, this is a mystery that plays fair with the reader.  Pay attention to details.
The characters are varied and realistic.  In fact it's the way the author shows the characters in their time and place that is the novel's greatest strength.  You see the anger, the fear, the hatred, and the love that exists between them.  People who live in rural areas are part of a community in ways that many urban dwellers don't realize.  We see that here.  Wortham's use of alternating viewpoints between Top and Ned (with a few others thrown in here and there) was quite effective and added both depth and suspense to the story.
Now, about that literature business, or rather, Literature.  By my definition, The Rock Hole fits.  It's part coming-of-age story, part mystery, part meditation on life, part period piece.  And all entertaining.
I'll be reading the rest of the series; the sixth book comes out in October.  Watch this space for reviews.
Finally, I noticed in his author bio that Wortham lives in Frisco.  Funny, I lived there for seven years while I was in graduate and while I had my first teaching position.  Small world.