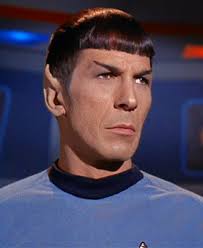 The news media is reporting that Leonard Nimoy has passed away.  He was 83.  In spite of other roles, he will forever be remembered as Spock on the original Star Trek.
I was a fan of the original ST, although I had to catch the shows in reruns at odd times when I was growing up.  I'm not sure I've seen all of the episodes.  I did read the James Blish novelizations when I was in 5th and 6th grades.
Spock was always my favorite character on the show.  I went through a mild phase where I tried to model myself on him by not displaying emotions and using only logic.  That didn't last long.  I've no Vulcan blood.
Rest in peace, Mr. Nimoy.  You lived long and prospered.