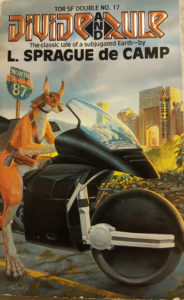 Divide and Rule
L. Sprague de Camp
originally serialized in Uknown, April and May 1939
Unknown, arguably the greatest fantasy magazine after Weird Tales, did publish some science fiction during its run. Not too surprising given the editor was John W. Campbell, Jr., the editor of Astounding Science Fiction.
Case in point, Divide and Rule by L. Sprague de Camp, who was an accomplished writer in both fantasy and science fiction. I enjoyed this one more than I have some of the other de Camp titles I've read in the last few years.
The story takes place a couple of hundred years in the future.  Earth has been subjugated by an alien race known as hoppers.  They're a cross between a kangaroo and a rat.  After studying Earth's history, they concluded that the best way to keep humanity from uniting was to divide them up into feudal territories. Continue reading →