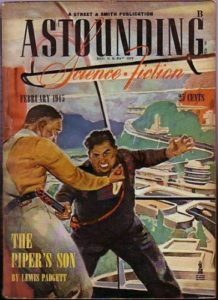 "The Piper's Son"
Originally published in Astounding Science Fiction, Feb. 1945
Henry Kuttner wrote a series of stories in collaboration with his wife C. L. Moore about a race of telepathic mutants called Baldies. This series consisted of five novelettes and ran under the Lewis Padgett byline in Astounding Science Fiction in the 1940s. This post will look at the first of them. I'll look at the rest every Friday and Tuesday until I've covered the entire series and the fix-up novel containing them all.
First a bit of backstory.  The setting is about one generation, maybe two, after a nuclear war.  Chicago, among other cities, was destroyed.  There are strict limits on how large a municipality can grow.  Any town that gets too large is destroyed.
The radiation blast created a number of mutants.  Among them are a race of hairless telepaths known as Baldies.  They wear wigs and do their best to blend into society.  Understandably, they're feared and hated by a large segment of the population. Continue reading →