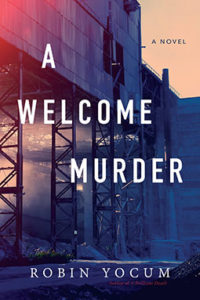 A Welcome Murder
Robin Yocum
Seventh Street Books
Trade Paperback $15.99 US/$17.99 CAN
Ebook $9.99 US/$11.99 CAN
Robin Yocum's A Brillian Death was probably my favorite book last year.  He returns with another tale of murder in set in a rustbelt Ohio town.  A Brilliant Death was a coming of age story wrapped in a murder mystery.  As such, the profanity and sexual content were pretty minimal; its content would not be inappropriate for younger readers.  This one deals with what happens when the dreams of youth and high school turn to disappointment and death.  The content in A Welcome Murder is much more raw than that of A Brilliant Death and may not be appropriate for readers under twenty-one eighteen.
The books are both well written, with compelling stories that knocked all other reading commitments aside, but they are told in such different ways that I was quite impressed with Yocum's versatility and range.  Permit me to elaborate.
The story is told through the eyes of five different characters in the town of Steubenville, Ohio.  First there's Johnny Earl, the former hometown sports hero, just released from prison after blowing a major league baseball career by selling drugs.  He's in town for a couple of days, trying to duck his former high school girlfriend, Dena Marie, while he gets back on his feet.  Dena Maire was the proverbial cheerleader with the comic book body and rampaging libido, and she still thinks she and Johnny will get married.  The fact that she's now married to a former classmate with the nickname of "Smoochie" doesn't seem to faze her.
The problem isn't simply that the former high school buddy turned FBI informant, Rayce, the guy who turned Johnny in, has been found dead. It's that they had a very public physical altercation just a few days before.  There is no shortage of suspects, including Smoochie, who got his butt kicked when he confronted Rayce over the affair he was having with Dena Maire.  (That Dena Marie, she sure gets around.)  Johnny is the front runner, however.
The sheriff investigating the murder is Francis Roberson.  He played football in high school with Johnny.  Francis is a former FBI agent, and although he had nothing to do with Johnny's drug arrest, he's a good man who intends to make a thorough investigation.  Aiding him, in her own way, is his wife Allison, who is also the dispatcher for the sheriff's department.  They met when she was working at the FBI Academy, and she resents that they've moved back to Steubenville.  Francis has political ambitions.  Allison sees them as her ticket out of this burg.  So she's doing what she thinks is best to accomplish this, including holding her knowledge of Francis's indiscretion with Dena Marie over his head.  (I told you Dena Marie gets around.)
So Johnny, Dena Marie, Smoochie, Francis, and Allison are the viewpoint characters, and they have some very different viewpoints, especially the two married couples.  The way Yocum balances the different perspectives is impressive.
So is the humor.  This is a pretty grim and dark book, with at least one unlikeable character (YMMV).  I had an urge to take a shower after Dena Marie's first chapter, which is a compliment.  It takes a good writer to elicit that type of reaction.  Youcm leavens the darkness with some screwball humor worthy of a Cary Grant movie.  I especially like Johnny's reaction when his former cellmate, a white supremacist with ambitions of forming his own nation in Montana, shows up at his bail hearing to collect some money he thinks Johnny has stashed away somewhere.  It's not easy to make me laugh out loud, but I did more than once.
I mentioned there are five characters with different viewpoints.  I could as easily said five characters with secrets.  Each of them has something they're trying to hide.  The clues are placed naturally, so that when the reader gets to certain revelations, rather than feel cheated the reaction is "Oh, of course.  I should have seen that."   Pay attention to the details.  They'll be important.
A  Welcome Murder was a compelling story I found hard to put down.  I'd like to thank Seventh Street Books for the review copy.